The conversation around the environmental impact of beef production is a growing topic across the United States. Phrases such as carbon intensity (CI) scoring, and greenhouse gas (GHG) emissions are quickly becoming a part of our agricultural vocabulary. Whether you believe that climate change is human induced or naturally occurring, one thing that is not changing is the view around carbon neutrality in all industries. Major food production companies such as Tyson Foods have made a commitment to reducing the carbon footprint of their products, pledging to achieve net-zero greenhouse gas emissions across its global operations and supply chain by 2050. Recently, the National Cattlemen's Beef Association announced a goal of climate neutrality for the beef industry by 2040. Major companies in other industries are providing opportunities for their customers to offset emissions as well. These are just a few examples of the increasing transparency that consumers are asking for in all industries.
Settje Agri-Services and Engineering works side-by-side with beef producers to navigate the carbon intensity scoring of their operations. Through data gathering and analysis, we are able to accurately and fairly assess the carbon footprint of beef ranching and feedlot operations, creating a baseline for your business to make decisions in this new realm of sustainability. All data and recommendations are ultimately owned by the producer, meaning our team has no ability to share or divest any of the information gathered about your operation. The sole purpose is to gather and analyze data to equip your team to make the best decisions possible. Here's how we do it:
In order to make the most informed decisions about sustainability in their operations, producers need a carbon intensity and greenhouse gas baseline. By assessing carbon output at all levels using industry-standard protocols, emissions are assessed from scopes 1-3. What does this mean? These scopes, or boxes, are the standard way of categorizing greenhouse gas emissions.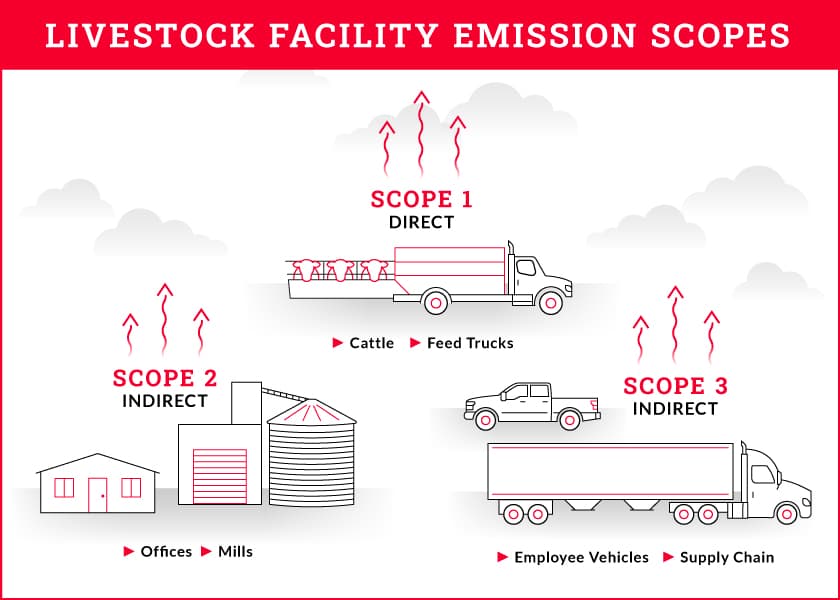 The United States Environmental Protection Agency (EPA) breaks these down into direct and indirect emissions sources:
Scope 1

are direc

t emissions from all controlled sources, including fuel combustion from boilers and heaters, along with trucks, equipment, and vehicles

owned and operated by your operation

.

Scope 2

are indirect emissions from purchased energy, most often electricity

, propane or

 natural gas

.

Scope 3

are all other indirect emissions that occur in the company's value chain, derived from activities and assets not controlled by the operation b

ut indirectly related to their operation. These emission sources include transportation of inputs, production of inputs, and processing of sold products.
Scope 3 is
the
most vague
, and can often pose the question of "where does this stop and start for my operation?" Together, we will work to determine what is and isn't in your operation's scope of emissions,
creating a standard
baseline or benchmark
for years to come.
Sustainability in the beef cattle industry doesn't stop after scope 3. It continues with a comprehensive assessment of sustainability, looking at the 'big picture' of an operation. This takes all aspects of the picture into consideration: the environment, people, and management. An official way to think about these factors is the ESG framework, which focuses on the environmental, social, and governance pillars of sustainability. ESG is the industry-leading standard for looking at sustainability.
The large packers all use the ESG framework to create their sustainability priorities and commitments. As packers work to achieve their lofty sustainability goals, they will not be able to do it alone. Livestock producers hold leverage to be a significant part of the solution. This is an opportunity for you and Settje Agri-Services and Engineering to re-establish cattle producers as stakeholders in the beef value chain. So, how can we work together to make this happen?
At Settje Agri-Services and Engineering we take a holistic look at the information gathered from the carbon intensity and greenhouse gas baseline, along with the sustainability assessment, to help you understand where your operation is today. We can then identify key improvement areas to work on over time. Whether it be designing and building an innovative feedyard facility or adding a methane digestor to your operation, there are many options to take as a livestock producer.
Since our founding in 1997, we have worked to deliver unmatched design, engineering, construction and environmental compliance services to livestock producers. Over time, we have evolved to offer a complete suite of services to producers like you.
If you're interested in learning more about Carbon Intensity (CI) scoring your livestock operation, contact your local Settje consultant to discuss our capabilities. If you don't have a Settje consultant, you can contact us directly.