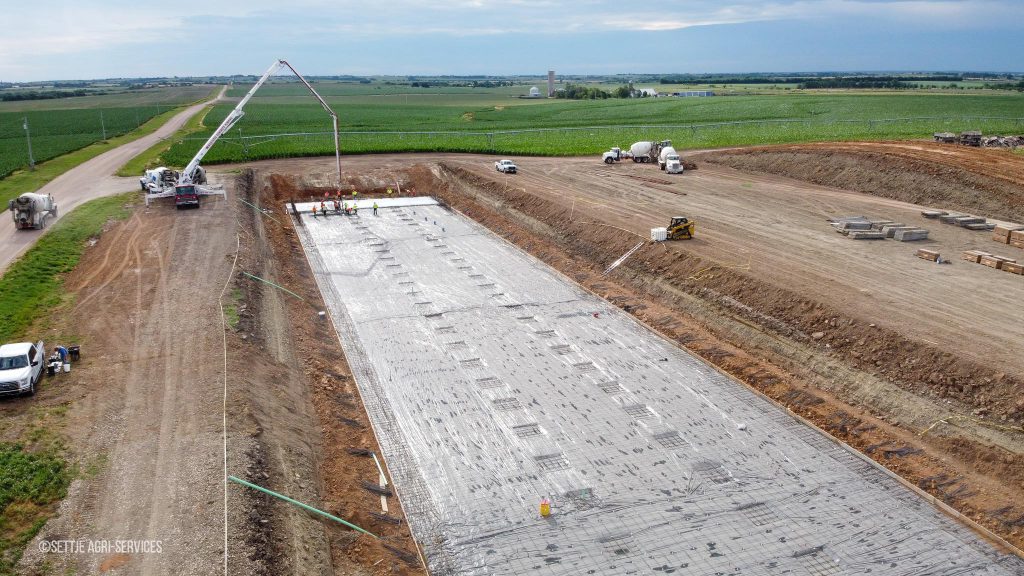 Every livestock facility construction project comes with its own unique set of circumstances and challenges. That's why Settje Agri-Services makes every effort to layout the construction process and timeline as transparently as possible. Below, we've outlined in detail the 8 steps we take to approaching every construction project our team takes on. We may not be able to foresee every speed bump in the road, but with the right preparation and decades of experience, we're confident we can keep every project on track.
Step 1. Assign the Project Management Team
Upon completion and signing of a contract with the customer, we schedule a pre-construction meeting with the individual responsible for the sale to transition the project from a sales prospect to a construction project.
The team consists of the following:
Salesperson
Internal Project Manager (Estimator/Purchasing Agent)
Design Engineer (if applicable)
Drafting Technician
External Project Manager
Site Supervisor
Step 2. Develop a Schedule
A schedule is a necessary tool that helps bring all parties together to work towards a more seamless construction process. The schedule identifies our timeline — this informs the owner for both project financing as well as a potential completion date when the facility can be used.
For the subcontractors and vendors, it provides a timeline for work to be undertaken and completed, as well as dates for delivery of materials and the interdependency between these. For the construction team, it's a roadmap to allocate resources/time for the successful completion of the project.
Typically, creating a schedule involves developing several iterations and taking input from all parties to establish the first published schedule. It's updated periodically to encompass change orders, weather events, and potential material supply issues that may arise.
Schedules are part of a weekly update from the PM to the owner and the company — keeping everyone informed.
Step 3. Order Materials / Contract with Subs
The internal PM orders all materials and sends out contracts to all subcontractors with project scopes and timelines for the described work. The schedule is updated per the agreed-upon subcontractor availability and the delivery of materials. A subcontractor and vendor list are provided to the External PM and site superintendent for direct communication during the construction of the project.
Step 4. Survey / Staking
If civil design packages were accepted/competed prior, and separate from the construction package, these designs are handed over to the construction team for implementation. In some cases, engineering staff will provide additional staking or will provide a GPS file to the appropriate civil contractor selected. This provides the best solution for correct, finished elevations and placement of the structure. If outside sources are used by the owner, coordination between the site superintendent, the third party, and the owner is imperative to understand each entity's responsibility.
Step 5. Site Prep
Earthwork/Site

Complete civil package including, excavation, backfilling and compacting

May include pre-construction site investigation – soil borings

Identify subsurface water
Identify subsurface obstructions – rock, trees, or debris

Roads — ingress & egress, rock & surfacing
Fine grading/ seeding
SWPPP (stormwater pollution prevention plan)

Utility Extension

One-call (identify underground utilities present on site)
Water/ well — the extension of existing water sources to facilities or coordination of digging new wells and extending it to where the facilities are being constructed
Electrical — communication with power company/electrical supplier on the sizing of power needed, location of the transformer, and extent of their services for handoff/coordination with the electrical contractor

Timing for temporary power to be utilized during the construction phase and then full turnover to the owner upon completion

Gas — coordination of any natural gas and extension to buildings or the implementation/usage of portable and onsite LP services as needed
Drainage — the underground burial of all drainage piping to lagoons, basins, outside storage containment, or local/municipal sewage lines as applicable
Step 6. Facility Construction
Foundations / Concrete — excavation of footings, concrete materials, reinforcing, water stop, forming, sealer, ties, concrete pumping, screeds, slats & beams, and the labor to perform the installation and placement of all concrete work
Building / Structure & Erection — the actual physical structure (wood or steel). This includes the sidewall and roof framing, beams, trusses, joists, purlins, posts, and nailers as well as the sheeting, screws, trim, insulation, doors, windows, and finishes in coordination with the labor to erect or install which includes all the machinery and tools necessary
Equipment & Installation — ventilation (fans, inlets, curtains, controls), feed handling (feed systems, feeders, bunks), fencing and gates, watering systems and tanks, processing equipment (alleys, chutes, loadout ramps), and specialty equipment (power washers, vet room equipment, etc). Labor to assemble, erect, or install
Step 7. Punch List
In the final week/days of the construction project, a scheduled walkthrough with the owner or owner's rep will take place to identify any final punch list items for completion, modification, or touch-up. This list is conveyed to the appropriate subcontractors for immediate attention for completion and sign-off of the project with the owner's acceptance. The completion of this list acts as the de facto completion and acceptance by the owner as of the date of completion. Any additions or changes after this acceptance are subject to additional pricing, timing & scheduling.
Step 8. Commissioning / Turnover
After completion of the construction project all installation manuals, cut sheets, and product sheets are supplied to the owner. In addition, all systems are run tested with training and initial startup provided to the owner where applicable and requested. "As-Built" prints are provided for the location of all utilities and supply lines.
At this point, Settje Agri-Services has officially turned the site over to the owner, but our connection with the facility and owner always continues. From consulting to compliance services, Settje continues to add value to every operation.
If you're considering building a confinement facility for your operation, contact your local Settje consultant to discuss our capabilities. If you don't have a Settje consultant, you can contact us directly.