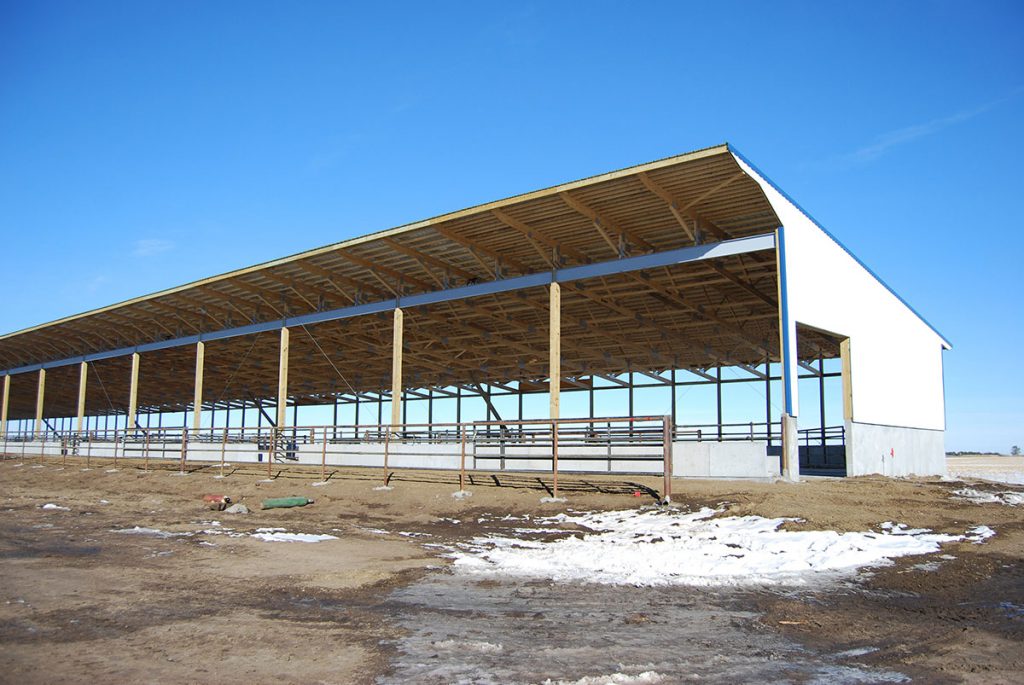 Production of beef in the U.S. historically has been technology-driven, utilizing reproductive management strategies, genetic improvement technologies, exogenous growth-promoting compounds, vaccines, antibiotics, and feed processing strategies. All of these strategies have focused on improving efficiency and/or decreasing the cost of beef production.
 Additionally, there's been a growing trend for large purveyors of meat products to exert influence on livestock producers. This includes encouraging them to implement production practices that are perceived as being in line with consumer interests. Packers, wholesalers, grocery chains, the hotel and restaurant industries, and other stakeholders have made topics such as animal welfare, environmental compatibility, traceability, antimicrobial resistance, growth implants, and natural/organic production systems, central elements in their supply chain strategies.
How can cattle confinement impact the future dynamics of the beef cattle industry?
As cattle producers adapt to continually changing market forces, confinement production systems have become increasingly popular, offering significant potential value and benefits related to:
Animal welfare concerns
Sustainability:

Reduced land required for expansion
Improved feed efficiency
Manure management – improved nutrient availability, storage and utilization, biogas capture

Niche markets (Wagyu/Akaushi/All-Natural/Organic)
Labor cost and availability
Generational transfer –  higher equity, long-term value
Food safety/traceability
Biosecurity and health management
Weather/climate predictability
Compared to poultry and swine industry production systems which have utilized contract production to drive vertical integration, the beef industry has been slower to adopt such a model. As a result, the independent cattle producer faces several obstacles that make incorporating a confinement facility difficult, such as:
Significant capital investment
Lack of consistent cash flow
Uncertain market dynamics
What are the financial implications of cattle confinement for the producer?
Up-front investment: A typical open lot expansion project will cost about $350-$500 per head, including the cost of facility design, excavation, equipment, and utilities. Today's costs for turnkey cattle barns range from $900-$1,100 per head for a bedpack facility, to $1,500-$1,700 per head for a deep-pit, slatted facility. However, if a producer is committed to being in the cattle-finishing business for the long run, there are numerous factors to consider that justify this added cost.
Performance: as any producer can attest, consistency in growing conditions can have a huge positive influence on animal growth, health, wellbeing, and performance. Data from customers has shown as much as a 10% improvement in feed efficiency, and similar improvement in average daily gain.
Labor Cost: while a bedpack barn has been shown to require about one-third more labor per head than an open lot (including bedding, feeding and manure management), a deep pit building generally requires about one-third less labor per head than an open lot.
Manure Value: depending on the building design and its manure containment system, a confinement facility can significantly improve the preservation and availability of nutrient value compared to manure harvested from an open lot. For example, the available N produced by a 1,000-head open lot will meet the nutrient requirements for about 150 acres of 250-bushel, corn-bean rotation. A similar-sized bedpack barn will provide enough N for about 470 acres and 1,000-head deep pit barn will meet the needs of about 660 acres.
Considering the financial return of the cattle performance, labor cost, and manure value offered by a deep-pit barn, the additional up-front capital investment can be paid back in less than 6-years, after which time the bottom-line benefits continue to add value to the operation.
How is the Midwest positioned to be able to take advantage of cattle confinement opportunities?
Nebraska and neighboring states account for nearly 50% of the 94 million US cattle and calves on farms
11 of the top 20 feedlots operate in Nebraska or surrounding states with a combined capacity of over 3.2 million head.
5 of the top 10 Beef Slaughter operations are in Nebraska or surrounding states, with a combined annual slaughter of over 18,000,000 cattle worth over $32 billion.
Of the over 15 million acres of corn and soybeans produced annually in NE alone, livestock manure only accounts for approximately 5% of the of the total nitrogen requirement – a huge opportunity for livestock expansion in the state.

Who benefits from an expansion of vertically integrated, confined cattle production in the Midwest?
Feedlots – increased production without land purchase for additional acreage
Farmers/ranchers – able to improve cost of production and nature of work required, further diversify their operations, add income for successive generations, and add value to crop production
Midwest communities – increased tax-base, added consumers of goods for local businesses
Of the numerous challenges, opportunities, and obstacles facing the industry, increased adoption of confinement systems in an integrated production model offers significant potential for a "rising tide to raise all boats" and enable all the players to share in the benefits.
If you're considering building a confinement facility for your operation, contact your local Settje consultant to discuss our capabilities. If you don't have a Settje consultant, you can contact us directly.