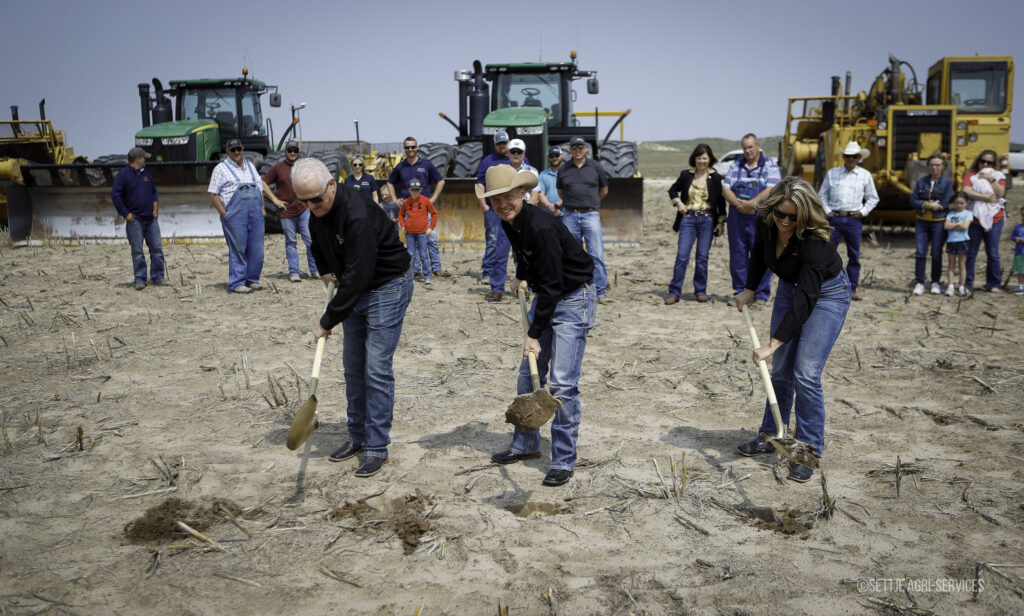 Commencement of Construction for Blackshirt Feeders
Haigler, Neb. (Monday, May 22, 2023) – Excavation equipment began construction on the site of what will become the headquarters for Blackshirt Feeders. Representation from Blackshirt Feeders LP, Settje Agri-Services and Engineering, and supporters were on hand for the occasion. Monday's ground-breaking aligns with projections put forth to the Benkelman Post in March.
This begins phase 1: construction of all necessary infrastructure for the feedlot facility, including roads, gas and electrical lines, well field and pipeline, feed mill, maintenance shops, and other related infrastructure. Their goal is to begin phase 2 in spring 2024, including the installation of the first sub-phases of pens, processing barns, etc., to support 50,000 head of cattle occupancy by September 1, 2024. The balance of phases 3 and 4 are expected to be constructed in 2025 and 2026, with each phase adding an additional 50,000 head of cattle. As presented and discussed in the county meetings, the digester portion of the project will be implemented at a later time, when there are enough cattle to provide the organic content required to operate the digesters.
Given the size, scope, and scale of this project, it is paramount that implementation of each phase of this project be very intentional and pragmatic. This approach will not only result in a world-class cattle feeding facility, but it will facilitate a steady growth rate that will allow the surrounding communities to grow with the feedlot.
Now that construction has commenced, the Blackshirt Team is expanding its efforts to explore potential residential development opportunities in the surrounding communities. Dr. Eric Behlke recently attended the Nebraska Investment Finance Authority's Innovation Expo, where an extensive amount of networking with rural housing developers occurred. There are several opportunities available (e.g., Rural Workforce Housing grant programs, Community Development Block Grant Program, etc.), which may be leveraged by local communities to develop residential infrastructure. Any organizations or individuals that may be interested in participating in task forces to explore these opportunities are encouraged to contact Dr. Behlke.
The owners of both Blackshirt Feeders and Settje Agri-services and Engineering are very excited for the commencement of construction. This agribusiness enterprise will result in a significant uptick in agricultural commerce in southwest Nebraska, which will have a positive economic impact on many of the surrounding communities. Both organizations are committed to conducting business in the local area with the utmost integrity, and very much look forward to becoming a part of the southwest Nebraska farming and ranching family.
# # #
About Settje Agri-Services & Engineering, Inc.
Settje Agri-Services and Engineering is the premier provider for livestock systems design, engineering, construction management, manure marketing and environmental compliance. By merging technology, design, construction, and regulatory considerations, Settje creates innovative systems for livestock producers and farmers that set the industry standard for quality around the globe. For more information, visit Settje.com.