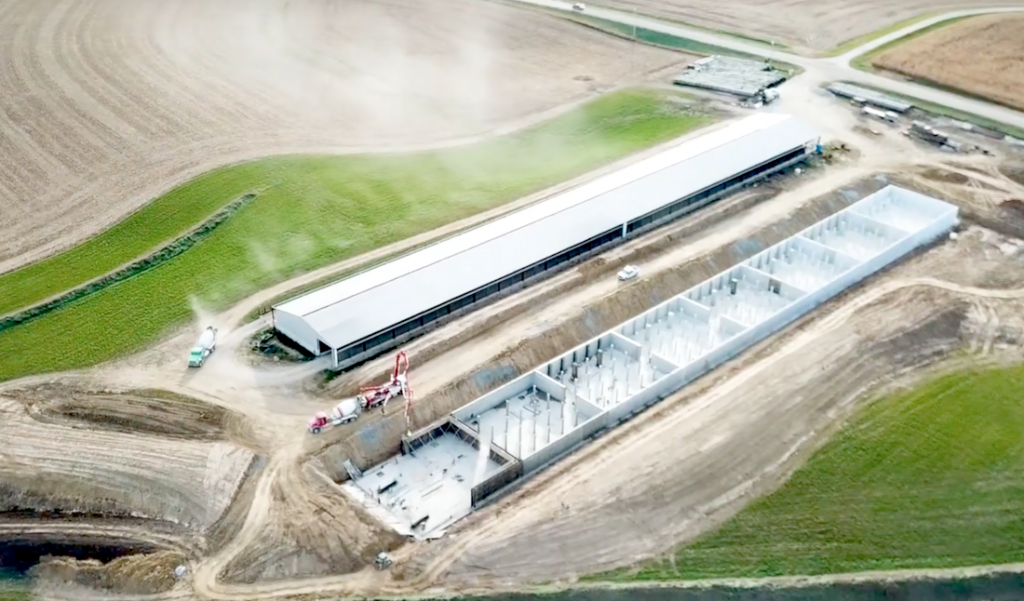 In 2019, feedlot owners are working hard to make sure the get the ROI they need. More and more, they're finding that custom-designed beef facilities give them that higher return on investment, along with value-driving benefits such as smart manure management and improved animal health. 
Many responsibilities of today's beef producer includes making sure barns are adequate to house beef cattle, manure management is bringing value back to the operation, and keeping cattle stress free and healthy year-round, all while staying profitable in ever-changing markets. 
Professional consultation from beef facility engineers and construction managers can ease some of those responsibilities. When it's time for them to design and build a new barn or other feedlot alternative, it's important to know the main goals for the producer and the facility. 
[col]
[ux_video url="https://youtu.be/1Rc9RhAuAxk"]
[/col]
New Designs Mean Happy Herds
Kurt Burken is a Construction Site Superintendent at Settje Agri-Service and Engineering Inc., and he has seen many cattle barns, including deep-pit and bed pack beef barns. He says today's custom confinement capacities can mean less stress on the animals.
"We've seen a lot of positives on the cattle side of things (with the newest generation of feedlot construction)," Kurt says. "Higher gains, less stress. Foot health/hoof health is better. Cattle are just more comfortable because they're out of the wind, they're out of the rain. It's just better for both producer and cattle."
Kurt was raised on a seed-stock cattle operation in south-central Nebraska. He spent a few years consulting for a large, fully integrated beef company in Russia before earning his Bachelor's Degree in Agribusiness at the University of Nebraska-Lincoln. 
Kurt says these confinement designs mean feedlot managers, owners and employees don't have to worry about some things, such as manure runoff. They have other benefits, as well, such as making better use of a smaller land area.
"With our cattle confinement barns, producers are seeing a lot of positives," Kurt says. "It's a smaller footprint, so it doesn't use as much ground."
That smaller footprint can mean higher cattle feed efficiency, which means an overall decrease in feed loss and waste.
Producers who need to combine functionality with affordability are taking manure management seriously. Traditional beef feedlots have a lower nutrient recapture than today's deep pits and bedded confinement systems. Structural engineering considerations (including reinforced concrete, retaining walls, and custom-designed bridge and culverts) make these modern systems possible.
Even with small feedlots, the nitrogen (N) and phosphorus (P)  generated can be thousands of tons. Deep-pit and bed pack beef barns optimize manure collection, eliminating pen maintenance as you know it.
Jake Mayer grew up riding along with his dad, Dr. John Mayer DVM, to feedyards across the Midwest, including several large confinement facilities. From those experiences he saw first-hand the advantages and challenges of feeding cattle in confinement buildings. Jake went on to earn degrees in Agricultural Engineering from Iowa State University and Mississippi State University. 
Today, he is works as a Project Engineer for Settje Agri-Services. 
Jake focuses on building relationships with owners and operators to give them engineering and design options that match their objectives with the right facility. 
"The first thing is to get their ideas on how they want the cattle to move in and out of the building, how they want the waste to be handled, and the style of the building they need," Jake says. "We try to provide the best information so they can make the best choices for their operation and their individual situation."
"We start asking questions about their goals, then we offer options on how to achieve the goal," he says. "Settje can pull from different things to make the product that's specific for that person." These customized solutions are a trademark of Settje's engineering team. 
Investing In Profitable Cattle Operations
Whether you are feeding Northern yearling steers, backgrounding high-risk calves, or looking to mitigate the impacts of mother-nature on your cow-calf operation, we can design a cattle barn that fits your exact needs in a cost-effective way. Contact Settje Agri-Services & Engineering for your agricultural engineering, manure management, and more.