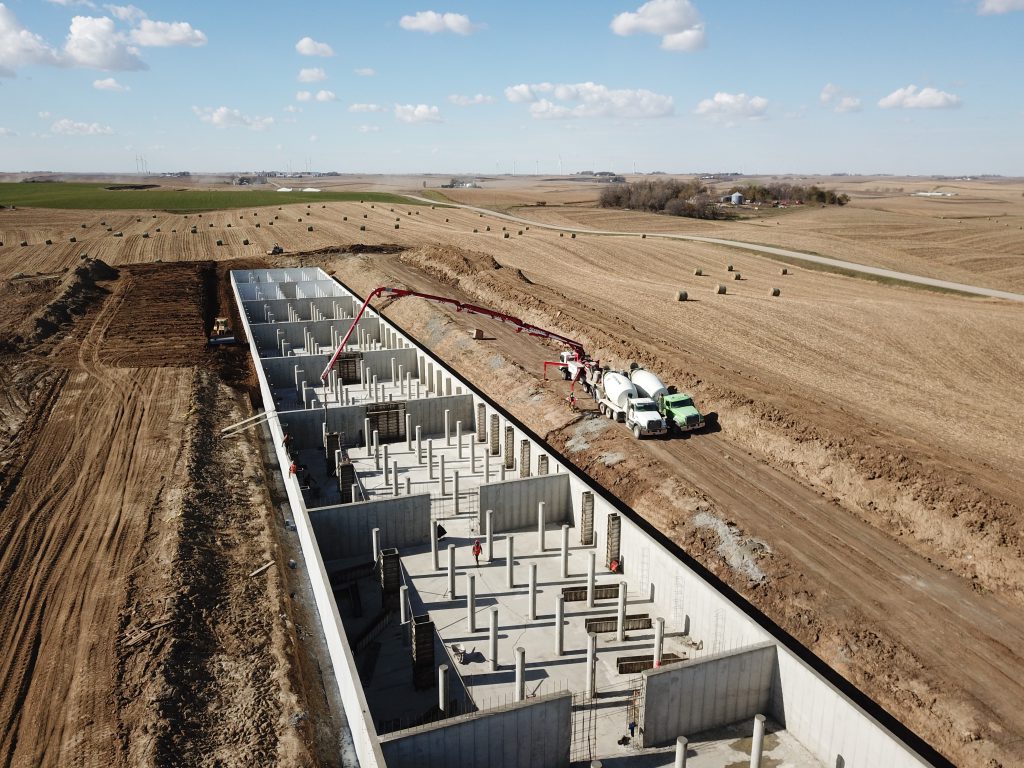 Beef confinement buildings are growing in popularity as an alternative to traditional beef feedlots. Many scenarios can arise that will dictate the construction schedule for a facility, including the overall complexity of the project, permitting process, and time spent designing and engineering the facility. As a general rule, our team typically follows this timeline from initial conversations all the way through the implementation of a project.
Step 1 – Preliminary Design and Estimating
After initial conversations and a site visit, a preliminary design and estimate can be created for your confinement building. This phase typically takes 2-3 weeks, and consists of the following:
Proposed site layout
Preliminary facility design
Budgetary cost estimate, based on current industry average pricing
These items allow you to visualize your new facility and how it may integrate with your existing operation. Additionally, the budgetary estimate will give you an approximate price for the project, which is typically within 5-10% of the contract amount.
Step 2- Review of Design and Costs
After receiving your design and estimate, changes will be necessary. Whether it is a major change to a new site, barn headcount or layout change, or many other considerations, our team works with you to determine the best design for the value. These adjustments can be made in as little as 1 week, and when more complex, can take over a month to reach a final decision. Whether you are making the changes yourself, or our team is working to optimize the design and costs, we work with you through every change.
Step 3- Permitting
Depending on the barn style (deep-pit vs. bed pack) and size, permitting may be necessary for your project before final design can begin. Additionally, permitting varies by state and even county. For example, a bed pack, 300 head barn near Columbus, Nebraska would require minimal permitting. Alternatively, a 1200 head deep pit facility in most Nebraska counties would require zoning and local approval, along with a state permit.
Our team works with you to fill out, review, and submit all permit documents in this process. When required, we also represent producers in county zoning meetings to ensure that the local zoning goes as smoothly as possible. We recommend taking design only to the preliminary stage before permitting to ensure that your permit design meets requirements before entering into the final design stage.
Step 4 – Final Design and Proposal
This is the last stage of the pre-construction process. Upon permit approval and final design approval by the customer, we take the preliminary design into final drawings. These drawings are construction-ready blueprints, certified by a Professional Engineer, and can be used by any General Contractor or Contractor for the construction of your facility. This process includes:
Final drawings details to include building specifications, plumbing and electrical, penning and gating schedules, and all civil plans. This provides a one-stop-shop for all designs, creating a seamless set of plans.
Review of final drawings, in person. We understand that not everyone can read and understand construction blueprints. Our Project Manager meets in person with the customer to explain and walk through all details of the project.
Signing of contract for construction. Once a contract price is locked in, that is your final price. We do not "hand down" price increases in materials to our customers after a deal is made.
Confirm start date for construction.
Once a start date is confirmed for a project, our team begins hiring all necessary subcontractors. It then becomes our responsibility to manage all schedules of the project with subcontractors.
If you're considering building a confinement facility for your operation, contact your local Settje consultant to discuss our capabilities. If you don't have a Settje consultant, you can contact us directly.